Castart Studios is a unique casting company located in Victoria, British Columbia, Canada. We specialise in producing original, high quality cast sculptures, fountains, birdbaths, replicas, mirrors and other art pieces for interior and exterior decoration. Many of our designs have functional uses.
Most of our products are sold through retailers, however, we offer some for sale here. We welcome wholesale inquiries.
Indoor products are made of Hydra-Stone (a very hard form of Gypsum) with a variety of finishes.
Outdoor products are made either of white concrete with an antiquing applied, or grey concrete with a bronze coating and patina applied, or colour etched with acid.
Our designs are noted for their originality and quality.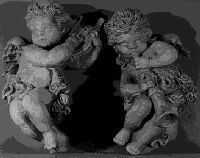 The following pages contain only a few of our many original designs (to which we are constantly adding). If you would like a current retail catalogue, then please send $5 US or $6 CDN to the above address.
Wholesale inquires Please Click here for catalogue details.

< --more images-- >

This site is updated regularly with photos of our new products.
Last update: Tuesday March 8, 1999.