Page 5/Multisport Training

December 5, 1999
Triathlon Training Tips
---
Please note that although I have taken a personal training course and have eleven years experience in triathlon and duathlons I am not a certified trainer. The advice and information contained on these pages are provided through experience, hard work and "gems" of information found through books, articles, the internet and a variety of sources. A checkup with your doctor or a sports physician is highly recommended especially for returning triathletes or those with any kind of physical limitations.

---
This page is divided into: training regimes for the beginner in swim, bike and run with an abundance of links to sites which deal with various aspects of triathlon training.
Training Plans on the Web
---
Compu Trainer
Prospeed Multisport
Train with Mike Pigg
Vasa Trainer
Steve Baker's 1999 Victoria Marathon Training
Hal Higdon's Marathon Training Guide
Much more to come

My Race Equipment
Cycling. 1989 Kestrel 200SCI, Jet black, 56cm, Shimano 600 ultegra components, Scott clip on bars, an excellent triathlon bike. Expensive but well worth the price. J-disc deep rim front wheel and J-disc solid rear race wheels bought from the factory (now closed) in Oregon. If and when I can afford to update I would purchase another Kestrel. But there are alot of good triathlon bikes on the market, I just like the look as well as the great performance.
Kestrel Link

I love riding the bike so I thought I'd better buy a good one. Before purchasing the Kestrel I had a Mongoose mountain bike. That was in 1986/87. I put alot of milage on it and must of fell off the bike twenty or so times as we went mountain biking in North Vancouver, BC and we'd be out all day. None of this one or two hour stuff!
I believe the mountain biking, especially on the off season, built strength and skills for my road riding in the spring and triathlon racing in the summer.
Generally I have not had too many mishaps with the road bike. I never lock it up because I'm never away from it when I'm training. It's with me or in the house. I have had bikes stolen in the past and have made great efforts to keep this bike. It's also insured for thieft.
I've only fallen off my road bike twice in ten years. Both times in training and usually when I was very tired. I've been hit three times in my life by a car/truck. When I was ten I suffered a broken leg. (That was in 1964 and I wasn't training for triathlon...wish I did tho.) The other accidents were due to driver carelessness.
I have learned the lesson to beware of traffic and have effective training routes and times when traffic is low; but not always...dress in bright colours and don't make any risky moves.
Unfortunatley sometimes that is not enough as a cyclist found out one evening recently in Victoria. He was hit from behind while riding in a bike lane. The cyclist did everything right, wearing yellow at night, a front and back light both operating properly and a helmet. He was killed.
I'm sure we all have our own horror stories. The best one can do is to be aware and don't take foolish risks.
Cycling is my favorite part of triathlon.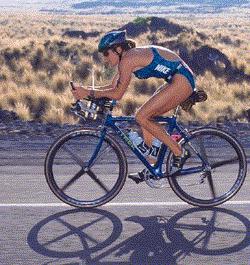 Karen Smyers at Ironman
Swimming If you never learned to swim until you were an adult then the swim portion of a triathlon can be tough. I remember panic attacks in a few (not many) triathlons over the years. One bad one in Bellingham durning the Peace Arch Triathlon, but it only lasts for about five or so seconds, then I was back swimming hard.
The best cure for that is to: train alot, seed yourself in the swim pact-for me that means near the rear of the race and join a masters or any swim club to improve your stroke and drop your swim times.
Swimming is not my favorite but I find that once I'm at the pool I usually enjoy the workout and although I can be tired from the effort, swimming doesn't beat me up like running or those long training rides.
Running (Not Jogging) I love to run when I'm in shape. It's tougher when your overweight, especially hill repeats because your dragging extra fat up the hill. I did run in high school and really enjoyed it, track and cross country. So running, besides being natural, was not a fad for me back in the 1970's.
My training is based on my running. I have always built a running base while doing weights and the exercise bike as I found that if I'm overfat that these workouts helped reduce the waistline. They also provide me with the cardiovascular and muscle strength fitness that I require to improve and move onto the next phase of training.

Books

I found that training with others, joining a triathlon club or at least a masters swim group, subscriptions to multisport magazines and having books to learn and use as reference helped my progression in the sport of triathlon and duathlon. Books like, Dave Scott's Triathlon Training by Dave Scott, Serious Training for Serious Athletes by Rob Sleamaker and Galloways book on Running are excellent sources for information and motivation.